Fully Refundable Booking Period
Feel good about booking your tour today. Enroll in AutoPay or pay in full when you book and if you change your mind, you have 60 days to receive a full refund of your payment.
Experience a centuries-old tradition in the heart of Bavaria.
Explore the vibrant cultures of northern Italy, Austria, and Germany on this one-of-a-kind journey. From romantic Venice, make your way through the Dolomites to multicultural Bolzano. Then, continue on to beautiful Innsbruck and lively Munich. In Oberammergau, watch history come to life during the Passion Play, a local performance that only happens once every ten years.
Your tour package includes
7 nights in handpicked hotels
7 breakfasts
1 lunch
4 dinners with beer or wine
5 sightseeing tours
Included highlights
St. Mark's Basilica
Bolzano
Cathedral of St. James
Passion Play in Oberammergau
Hohenschwangau Castle
Start planning today
An expert specializing in tours of this region is here to help.
Book with peace of mind
We make it easy with down payments as low as $99, fee-free booking, and more
Reviews
Overall rating 5.0 out of 5
Based on 2 authentic traveler reviews
Best part of the tour is the human experience
05/31/22 by 1st-time traveler Chris
Vania was amazing! Never been on a tour but for sure know that she made it what it was…things were not always perfect but she was always working to make things happen and had such an enjoyable, easy-going nature that made you feel always at ease. Great experience managing the travel requirements thr...
EF Go Ahead Tours replied on 06/08/22
Hello Chris, thank you so much for your honest rev...
Venice,Austria and Germany Experience
05/31/22 by 1st-time traveler Annette
This was my very first tour experience and first trip to Europe. It was an unforgettable journey! I have nothing to compare this tour to so I'm giving it an excellent rating. There were a few minor issues , but overall a wonderful time with great people. One thing I liked was that our group was smal...
EF Go Ahead Tours replied on 06/08/22
Hi Annette, we are so honored that you chose to sp...
Traveler photos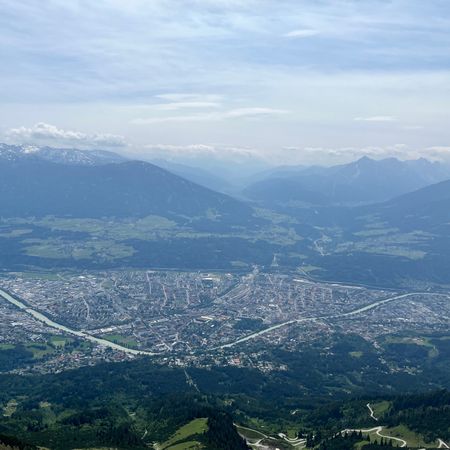 Hotels, flights & FAQ
Here's the nitty-gritty—where you'll stay, how you'll get there, and what to know about your destination before you go.
Hotels
We handpick every hotel to strike the balance of comfort, location, and local charm. Specific accommodations will vary based on your departure date, but these are frequently used hotels for this tour and we're confident you'll be satisfied.
Hotel Villa Pannonia
This modern hotel is located on the island of Lido. Guests enjoy a garden, a small library, and an on-site contemporary art exhibition. Nearby you'll ...
Hotel Innsbruck
This historic hotel is located in central Innsbruck. Guests enjoy an indoor pool, spa, and restaurant and bar. Nearby, you'll find the downtown shoppi...
Riessersee Hotel Resort
This Alpine-style hotel is located in the German countryside. Guests enjoy a restaurant, swimming pool, and sauna. Nearby, you'll find Riessersee Lake...
Holiday Inn Munich City Centre
This centrally-located hotel is located in the heart of Munich. Guests enjoy free Wi-Fi and an on-site restaurant. Nearby, you'll find the Au-Haidhaus...
Arcotel Castellani
This contemporary hotel is located in Salzburg city center. Guests enjoy free WiFi, a mini bar, and air conditioning. Nearby, you'll find ARCOTEL Cast...
Flights
Round-trip flights are one more thing we handle to make your journey as smooth as possible. Our team of travel experts will find the best flight itinerary for you at a competitive rate, thanks to our partnerships with top airlines.
Add our airfare package and you'll get:
Round-trip flight for your tour
Airport transfers at your destination
A great price locked in today
24/7 support from our dedicated service team
Options for arriving early, staying longer, or requesting an upgrade
Flexible rebooking options if your tour itinerary changes
Local weather
Bolzano, Italy
Weather averages
Salzburg, Austria
Weather averages
Venice, Italy
Weather averages
Munich, Germany
Weather averages
Innsbruck, Austria
Weather averages
Oberammergau, Germany
Weather averages
FAQ
Print FAQ
Passport, visa & entry requirements
Transportation & arrival information
Electricity & air conditioning
Purchasing excursions on tour