A Week in Greece: Athens, Mykonos & Santorini
with Rome extension
Duration:

9 or 12 days

Group size:

15-30

Reviews:

160
Extended risk-free booking
Book today and feel good about your decision. If you change your mind, you'll receive a refund of your deposit through April 30.
See terms
Watch the setting sun from the hilltops of Greece's most famous islands.
Cobblestone streets, arched white facades, ocean-blue roofs, and larger-than-life windmills are just a few of the picturesque Greek landscapes you can expect to find on this tour. Experience ancient history and open-air museums in the capital of Athens. Then, the quintessential, beautiful Greek islands you've been dreaming of come to life on the isles of Mykonos and Santorini.
Your tour package includes
7 nights in handpicked hotels
7 breakfasts
3 dinners with beer or wine
3 guided sightseeing tours
Expert Tour Director & local guides
Included highlights
Acropolis
Parthenon
Temple of Zeus
Windmills in Mykonos Town
Black-sand beaches in Santorini
Get unbeatable value
With price matching, risk-free booking,
interest-free payments, and more
Read details
Reviews
Our reviews are authentic and unedited.
Amazing Trip Ever
01/03/2020
by 2nd time traveler 
Walter F.
Greece was amazing, I had the time of my life with my friend to celebrate my 50th Birthday.
Excellent Trip!
01/03/2020
by 4th time traveler 
Deniese C.
What a wonderful and beautiful trip! The people, the food, the accommodations, the itinerary were ALL great! Again, Go Ahead has put together a perfect trip to include Athens on the mainland and the islands of Mykonos and Santorini. I love how I can just experience the trip without the hassle of pla...
Natural Beauty Wonderful Experience
11/18/2019
by 8th time traveler 
Winter S.
I love history and ancient ruins. Greece was on my list of place I wanted to visit since I learned about the Parthenon at the Acropolis. To my pure delight, we could see the Parthenon in the distance from our hotel in Athens. Our visit to the Acropolis made me giddy with joy. The trip from Athens ...
Greece as wonderful, tour director and travel among places were poor
03/02/2020
by 6th time traveler 
Denise R.
Greece is a magnificent country and this being Said its my 5th "Go Ahead" tour. I was expecting the same experience as my other trips. This was not the case I believe that your experience comes first from the tour director and of course the Go Ahead experience of traveling with a group. I am used to...
Go Ahead Tours replied on 03/02/2020
Dear Denise, Thank you for your feedback regarding...
Magical, Educational, and Heart Warming
11/06/2019
by 2nd time traveler 
Sean J.
Our week in Greece was truly amazing. From the mind-blowing food and wine to the wonderful hotels to the awe-inspiring sites and local tours, everything blew away my expectations. Every bite we took, every piece of history we saw, every personal interaction we had was perfect. The best part of the ...
Hotels, flights & FAQ
Here's the nitty-gritty—where you'll stay, how you'll get there, and what to know about your destination before you go.
Hotels
We handpick every hotel to strike the balance of comfort, location, and local charm. Specific accommodations will vary based on your departure date, but these are frequently used hotels for this tour and we're confident you'll be satisfied.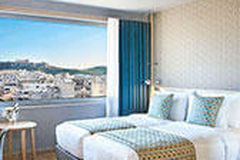 Wyndham Hotel
This modern hotel is located in the Karaiskaki Square neighborhood. Guests enjoy a restaurant, a rooftop bar, and an outdoor pool. Nearby, you'll find...
Kalisti Hotel & Suites
This beautiful hotel is located in the heart of Fira, the capital of Santorini. Guests enjoy a pool, outdoor bar, and stylish accommodations. Nearby, ...
Best Western Hotel Royal Santina
This modern hotel is located in near Termini station. Guests enjoy free WiFi, a minibar, and laundry center. Nearby, you'll find Museo Nazionale Roman...
Bellevue Mykonos Hotel
This coastal hotel is located in the Tourlos neighborhood. Guests enjoy an outdoor pool, bar, and restaurant. Nearby you'll find the waterfront, Mykon...
Airotel Stratos Vassilikos
This stylish hotel is located downtown near the Megaro Mousikis metro station. Guests enjoy an on-site restaurant, fitness center, and free Wi-Fi. Nea...
Flights
Round-trip flights are one more thing we handle to make your journey as smooth as possible. Our team of travel experts will find the best flight itinerary for you at a competitive rate, thanks to our partnerships with top airlines.
Add our airfare package and you'll get:
Round-trip flight for your tour
Airport transfers at your destination
A great price locked in today
24/7 support from our dedicated service team
Options for arriving early, staying longer, or requesting an upgrade
Flexible rebooking options if your tour itinerary changes
Local weather
Mykonos, Greece
Weather averages
Rome, Italy
Weather averages
Athens, Greece
Weather averages
FAQ
Print FAQ
Passport & visa requirements
Transportation & arrival information
Electricity & air conditioning
Purchasing excursions on tour
Dates & prices
Choose your dates to start a quote
Starts
Ends
Price
Availability
More tours you might love