Fully Refundable Booking Period
Feel good about booking your tour today. Enroll in AutoPay or pay in full when you book and if you change your mind, you have 60 days to receive a full refund of your payment.
Treat your taste buds to sweet Belgian chocolate and crisp Bavarian beer.
On this small group Food & Wine Tour, you'll journey through Belgium and Germany, from enchanting Bruges to medieval Bamberg to lively Munich. Be sure to bring your appetite when you discover the local beers, fare, and traditions that make these countries such celebrated destinations.
Your tour package includes
10 nights in handpicked hotels
10 breakfasts
2 lunches
5 dinners with beer or wine
1 cooking class
Included highlights
Bruges' Beguinage
Belgian chocolate tastings
Huyghe Brewery
Grand-Place in Brussels
Maredsous Abbey
Start planning today
An expert specializing in tours of this region is here to help.
Book with peace of mind
We make it easy with down payments as low as $99, fee-free rebooking, and more
Reviews
4.2 star rating
Overall rating 4.2 out of 5
Based on 13 authentic traveler reviews
Fun trip
10/9/22 by 8th-time traveler Debra
We had a wonderful trip ! Our guide, Kat was the best!! She went above and beyond. She always, made everyone happy, found some extra things to do. The country site, was beautiful!! There was so many things we loved about the trip. Best of all we had a wonderful group to travel with!! It was a great...
Never a dull moment
7/10/22 by 2nd-time traveler Michelle
Was an excellent time loved learning about the history and experiencing the beauty of the land. The food was amazing and Michael, our tour guide was personable, fun and knowledgable, he was a delight. Our bus driver Vlado, not sure I spelt his name right, was an excellent driver. I was amazed with h...
Absolutely fabulous and fun!!
9/5/21 by 1st-time traveler Claudia
The tour director,Jens, was excellent. He truly is living his calling. The venues were really good. The hotel Ibis had really small rooms but the beds were really comfortable. Let's go again!
EF Go Ahead Tours replied on 12/3/21
Hi Claudia, Thank you for leaving us an online re...
Traveler photos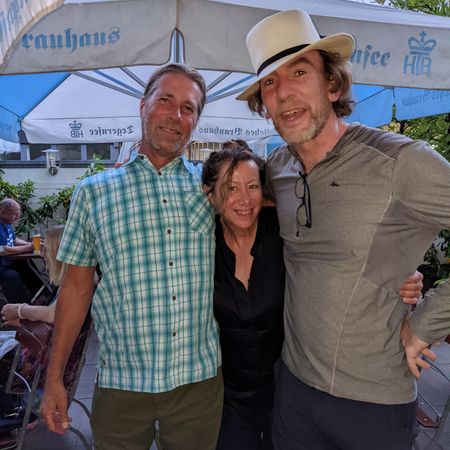 Hotels, flights & FAQ
Here's the nitty-gritty—where you'll stay, how you'll get there, and what to know about your destination before you go.
Hotels
We handpick every hotel to strike the balance of comfort, location, and local charm. Specific accommodations will vary based on your departure date, but these are frequently used hotels for this tour and we're confident you'll be satisfied.
NH Brugge
This historic hotel is located in the Brugge city center. Guests enjoy a peaceful garden area, a bar, and fitness center Nearby, you'll find Market Sq...
Penta Hotel Brussels City Centre
This trendy hotel is located in the Kastelijn neighborhood of Brussels. Guests enjoy a restaurant, bar, and gym. Nearby you'll find Halle Gate, Palais...
Mercure Wiesbaden City
This modern hotel is located in the city center. Guests enjoy room service, free Wi-Fi, and a bar. Nearby, you'll find Wilhelmstrasse, Museum Wiesbade...
Hotel Europa Bamberg
This Venetian-inspired hotel is centrally located at the Chain Bridge in Bamberg. Guests enjoy free Wi-Fi, plus an on-site restaurant and bar. Nearby,...
Holiday Inn Munich City Centre
This centrally-located hotel is located in the heart of Munich. Guests enjoy the fitness center, Finnish style sauna, and an on-site restaurant. Nearb...
NH Prague City
This modern hotel is located in the Smíchov district of Prague. Guests enjoy a gym and sauna, restaurants with terraces, and tennis court. Nearby, you...
Flights
Round-trip flights are one more thing we handle to make your journey as smooth as possible. Our team of travel experts will find the best flight itinerary for you at a competitive rate, thanks to our partnerships with top airlines.
Add our airfare package and you'll get:
Round-trip flight for your tour
Airport transfers at your destination
A great price locked in today
24/7 support from our dedicated service team
Options for arriving early, staying longer, or requesting an upgrade
Flexible rebooking options if your tour itinerary changes
FAQ
Print FAQ
Passport, visa & entry requirements
Transportation & arrival information
Electricity & air conditioning
Purchasing excursions on tour
More tours you might love