New Year's Eve in Rome: Italy & Greece
Duration:

11 days

Group size:

15-38

Reviews:

2
Extended Risk-Free Booking Period
Book today and feel good about your decision. If you change your mind, you'll receive a refund of your deposit through January 1, 2021.
See terms
Count down to the new year among some of the world's legendary landmarks.
As you make your way through Italy and Greece's most iconic cities and inspiring landscapes, you'll walk through the backdrops of ancient mythology and in the footsteps of emperors. Sit back and savor the good life in Sorrento and on the Isle of Capri, then kick off the new year in Rome and explore history in Athens.
Your tour package includes
9 nights in handpicked hotels
9 breakfasts
4 dinners with beer or wine, including a celebratory New Year's Eve dinner with Champagne toast
5 sightseeing tours
Expert Tour Director
Included highlights
Capri
Pompeii ruins
Roman Forum
Colosseum
New Year's Eve celebrations in the Eternal City
Hotels, flights & FAQ
Here's the nitty-gritty—where you'll stay, how you'll get there, and what to know about your destination before you go.
Hotels
We handpick every hotel to strike the balance of comfort, location, and local charm. Specific accommodations will vary based on your departure date, but these are frequently used hotels for this tour and we're confident you'll be satisfied.
Kalisti Hotel & Suites
This beautiful hotel is located in the heart of Fira, the capital of Santorini. Guests enjoy a pool, outdoor bar, and stylish accommodations. Nearby, ...
Airotel Stratos Vassilikos
This stylish hotel is located downtown near the Megaro Mousikis metro station. Guests enjoy an on-site restaurant, fitness center, and free Wi-Fi. Nea...
Hotel Romanico Palace
This luxurious hotel is located in Rome's Ludovisi neighborhood. Guests enjoy a rooftop garden, spa and fitness center, and air conditioning. Nearby, ...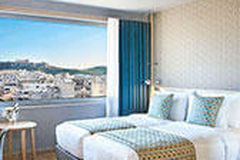 Wyndham Hotel
This modern hotel is located in the Karaiskaki Square neighborhood. Guests enjoy a restaurant, a rooftop bar, and an outdoor pool. Nearby, you'll find...
Amalia Hotel Nauplia
This modern hotel is located in the town entrance of Nafplion. Guests enjoy free WiFi, balconies, and air-conditioning. Nearby, you'll find Árgos, Tir...
Grand Hotel Cesare Augusto
This cozy hotel is located in the city center. Guests enjoy an outdoor pool, bar, and free Wi-Fi. Nearby, you'll find Piazza Tasso, Marameo Beach, and...
Flights
Round-trip flights are one more thing we handle to make your journey as smooth as possible. Our team of travel experts will find the best flight itinerary for you at a competitive rate, thanks to our partnerships with top airlines.
Add our airfare package and you'll get:
Round-trip flight for your tour
Airport transfers at your destination
A great price locked in today
24/7 support from our dedicated service team
Options for arriving early, staying longer, or requesting an upgrade
Flexible rebooking options if your tour itinerary changes