Fully Refundable Booking Period
Feel good about booking your tour today. Enroll in AutoPay or pay in full when you book and if you change your mind, you have 60 days to receive a full refund of your payment.
Mangia your way through Italy with fellow foodies.
The Colosseum and Saint Mark's Basilica are classic sites to cross off your Italian bucket list. But on this trip to Venice, Florence, and Rome for solo travelers, you'll discover that perfecting your gelato order and finding which trattoria has the best margherita pizza are just as important. Travel solo (but never alone!) as you discover the ins and outs of the local culture and cuisine alongside like-minded adventurers.
Your tour package includes
7 nights in a private room at handpicked hotels
7 breakfasts
3 dinners with beer or wine
1 cooking class
4 sightseeing tours
Included highlights
St. Mark's Basilica
Mercato Centrale
Mercato di Sant'Ambrogio
Trevi Fountain
Piazza Navona
Start planning today
An expert specializing in tours of this region is here to help.
Book with peace of mind
We make it easy with down payments as low as $99, fee-free booking, and more
Reviews
Overall rating 5.0 out of 5
Based on 1 authentic traveler reviews
Tamara the best Tour Guide in Italy.
04/03/22 by 2nd-time traveler Ruth
Tamara our tour guide. She was extremely knowledgeable and informed us of the many sights while we were driving on the bus to get from one place to another. She kept us informed and entertained.
EF Go Ahead Tours replied on 05/02/22
Dear Ruth, Thank you for leaving a review! We are...
Traveler photos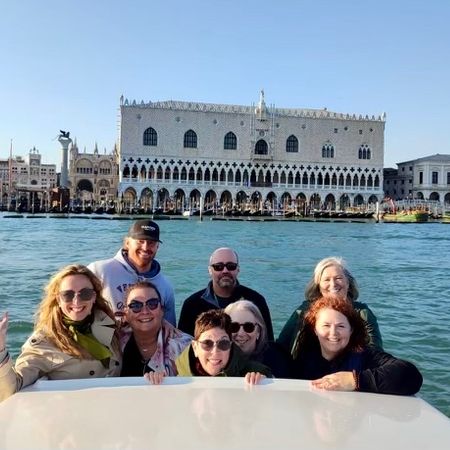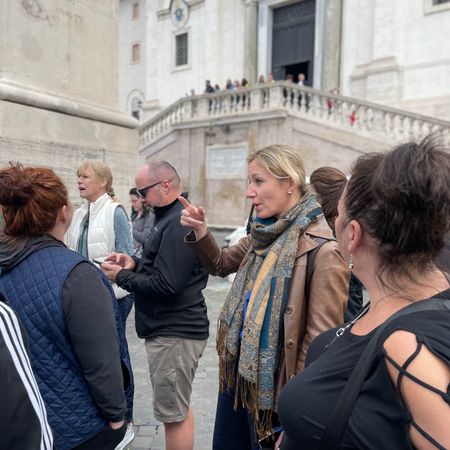 Hotels, flights & FAQ
Here's the nitty-gritty—where you'll stay, how you'll get there, and what to know about your destination before you go.
Hotels
We handpick every hotel to strike the balance of comfort, location, and local charm. Specific accommodations will vary based on your departure date, but these are frequently used hotels for this tour and we're confident you'll be satisfied.
Hotel Villa Mabapa
This Art Nouveau hotel is located in Lido di Venezia. Guests enjoy a private beach area, restaurant and bar, and library. Nearby, you'll find Lido Bea...
Hotel Athenaeum
This plush hotel is located in the center of Florence. Guests enjoy a gourmet restaurant, fitness room, and billiard room. Nearby, you'll find the Duo...
Mercure Roma Piazza Bologna
This modern hotel is located in Rome's Piazza Bologna. Guests enjoy free Wi-Fi, a bar and lounge, and a fitness center. Nearby, you'll find the 19th-c...
Grand Hotel Cesare Augusto
This cozy hotel is located in the city center. Guests enjoy an outdoor pool, bar, and free Wi-Fi. Nearby, you'll find Piazza Tasso, Marameo Beach, and...
Flights
Round-trip flights are one more thing we handle to make your journey as smooth as possible. Our team of travel experts will find the best flight itinerary for you at a competitive rate, thanks to our partnerships with top airlines.
Add our airfare package and you'll get:
Round-trip flight for your tour
Airport transfers at your destination
A great price locked in today
24/7 support from our dedicated service team
Options for arriving early, staying longer, or requesting an upgrade
Flexible rebooking options if your tour itinerary changes
Local weather
Sorrento, Italy
Weather averages
Rome, Italy
Weather averages
Venice, Italy
Weather averages
Naples, Italy
Weather averages
Florence, Italy
Weather averages
Today
High 105 °F
Low 62 °F
/
FAQ
Print FAQ
Passport, visa & entry requirements
Transportation & arrival information
Electricity & air conditioning
Purchasing excursions on tour