A Week in Egypt: Giza, Nile River Cruise & Cairo
9 days |  11 days with Cairo extension
Group size15–35 travelers
Fully Refundable Booking Period
Feel good about booking your tour today. Enroll in AutoPay or pay in full when you book and if you change your mind, you have 60 days to receive a full refund of your payment.
Demystify sites that define 5,000 years of history as you sail along the Nile River.
The perfect day in Egypt involves a little falafel, a little stroll through the souks, and a whole lot of ancient history. We're talking deciphering hieroglyphics at towering temples and snapping photos of the Pyramids of Giza that look just like the ones you see in history books. Then, take to the Nile—because no trip to Egypt is complete until you discover the sites spanning the east and west banks of Africa's longest, and most famous, river.
Your tour package includes
4 nights in handpicked hotels
3 nights aboard a Nile River cruise ship
7 breakfasts
3 lunches
6 dinners, select meals with beer or wine
Included highlights
Pyramids of Giza
Great Sphinx
Imhotep Museum
Temples at Philae
Temple of Kom Ombo
Start planning today
An expert specializing in tours of this region is here to help.
Book with peace of mind
We make it easy with down payments as low as $99, fee-free booking, and more
Reviews
Overall rating 4.8 out of 5
Based on 4 authentic traveler reviews
Egypt is a MUST SEE!
10/02/22 by 2nd-time traveler McKaela
If you want a trip of a lifetime book your trip to Egypt with EF Go Ahead. This was my second trip with EF and their tour directors make the whole trip worth every penny. Hala was knowledgeable, passionate, and thorough. She answered every question and I learned more than I could've imagined. Egy...
Egypt Tour review
10/02/22 by 1st-time traveler Manuel
The tour was well planned and covered most of the sites I wanted to see. The tour guide, Hala, was particularly knowledgeable and made our tour as pleasant as possible. The hotels were first class and the cruise up the Nile was thoroughly enjoyable. The group was very friendly and got on well. This ...
Great experience!
10/02/22 by 1st-time traveler Caroline
I had a great time and Hala, our tour guide, was amazing!
Traveler photos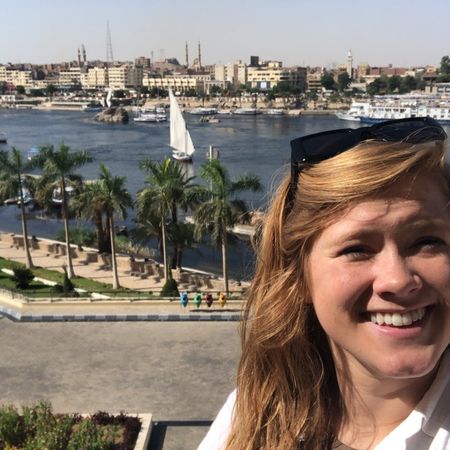 Hotels, flights & FAQ
Here's the nitty-gritty—where you'll stay, how you'll get there, and what to know about your destination before you go.
Hotels
We handpick every hotel to strike the balance of comfort, location, and local charm. Specific accommodations will vary based on your departure date, but these are frequently used hotels for this tour and we're confident you'll be satisfied.
Cairo Pyramids Hotel
This modern hotel is located outside of Giza. Guests enjoy an outdoor swimming pool, fitness area, restaurant, and bar options. Nearby you'll find the...
Jaz Crown Jubilee
This modern cruise ship travels along the Nile River and features a sundeck, pool, gym, restaurants, bars, and a spa.
Movenpick Resort Aswan
This resort-style hotel is located on Elephantine Island in Aswan. Guests enjoy a pool, tennis courts, and laundry services. Nearby, you'll find Kitch...
Steigenberger El Tahrir
This modern hotel is located in the heart of downtown Cairo. Guests enjoy a restaurant, bar, spa, and swimming pool. Nearby, you'll find the Nile Rive...
Flights
Round-trip flights are one more thing we handle to make your journey as smooth as possible. Our team of travel experts will find the best flight itinerary for you at a competitive rate, thanks to our partnerships with top airlines.
Add our airfare package and you'll get:
Round-trip flight for your tour
Airport transfers at your destination
A great price locked in today
24/7 support from our dedicated service team
Options for arriving early, staying longer, or requesting an upgrade
Flexible rebooking options if your tour itinerary changes
Local weather
Cairo, Egypt
Weather averages
Kom Ombo, Egypt
Weather averages
Giza, Egypt
Weather averages
Edfu, Egypt
Weather averages
Aswan, Egypt
Weather averages
Luxor, Egypt
Weather averages
Esna, Egypt
Weather averages
FAQ
Print FAQ
Passport, visa & entry requirements
Transportation & arrival information
Electricity & air conditioning
Purchasing excursions on tour